The Stamp Collector's Magazine (SCM) is the second journal on stamp collecting or philately ever published in the world. The reason I use the word "philately" after "stamp collecting" is because Georges Herpin had not yet coined the former word; he did so only in Nov 1864, almost a couple of years after the first issue of SCM came out in Feb 1863.
Published over 12 volumes from 1863-74, SCM set extremely high standards of philatelic journalism. It was edited by Dr. Charles William Viner till about end-1866 and thereafter by George Overy Taylor; Viner having left to edit The Philatelist.
Vol. 1 No. 1 was reprinted. In Vol. II No. 4 of The Journal of the Philatelic Literature Society, Edward D. Bacon, eminent philatelist, mentions two variations to distinguish the original from the reprint.
On page 15, in the advertisement at the top of the right hand column the letters "lake" of the name "Blake" are in small roman capitals in the original and in lower-case type in the reprint (Figure 1).
On page 16 the error of spelling in the words "Just Pubished" (missing "l") above the advertisement of "The Postage-Stamp Collector's Pocket Album" in the right hand column, is corrected in the reprint to "Just Published"(Figure 2).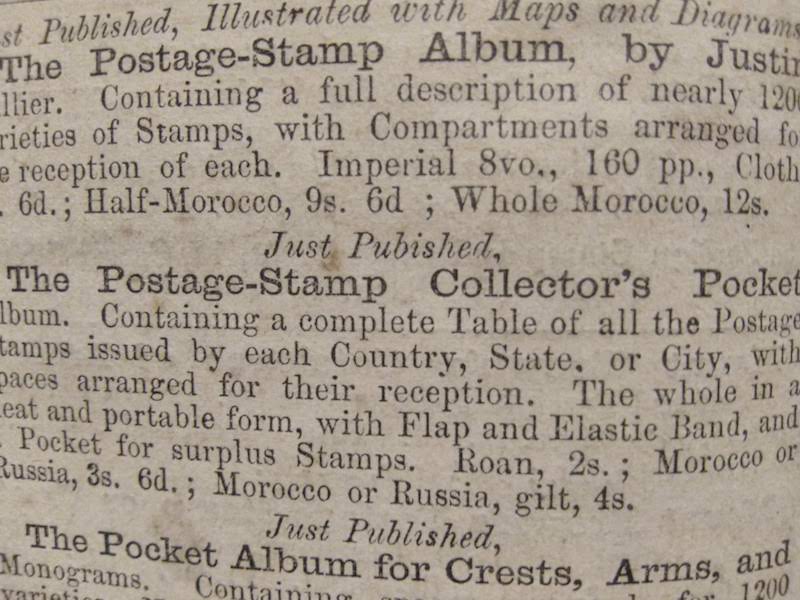 Bacon further adds that the original No. 1 was probably dispatched only in March 1863 since he has seen one postmarked March 4 while the reprint was not made until August 1863.
Note: My copy of Vol. 1 No. 1 is the original.