More than a 100 years back, the best philatelic bibliography ever, Bibliotheca Lindesiana Vol VII: A Bibliography of the Writings General Special and Periodical forming the Literature of Philately or more popularly, 'The Crawford Catalogue', was published. Since then many libraries and private collectors (such as Dr. Stanley Bierman and Albert Kronenberg) have published bibliographies of their holdings; Negus (1991) does a survey of them in his brilliant and indispensable work.
Amongst these is 'The Stockholm Catalogue' of philatelic books (Figure 1) in the Postmuseum, Stockholm (Figure 2). Published in 1954 and with a supplement coming out in 1968, this may well be, next to The Crawford, the most important philatelic bibliographic work existing. An important point is that it also covers books (but unfortunately not periodicals and bibliographic works) published in the nearly half-century after Crawford, an information-wise dark period with which many philatelic bibliographers and historians struggle.
When the main work came out, the Postmuseum had 20,000 literature titles in its library. That number has grown to 60,000 to 70,000 now. Unfortunately, the Postmuseum is not yet a contributing library to the Global Philatelic Library (GPL) initiative and hence one does not know the extent and contents of its current holdings.
The Catalogue
The bibliography of the catalogue is given below:
[Org, Votele]. Handbok över Monografier m. m. i Postmuseums Filatelistiska Bibliotek, Stockholm (=Handbook of Monographs, etc., in the Postmuseum Philatelic Library, Stockholm). Stockholm: Royal General Post Office Board, 1954.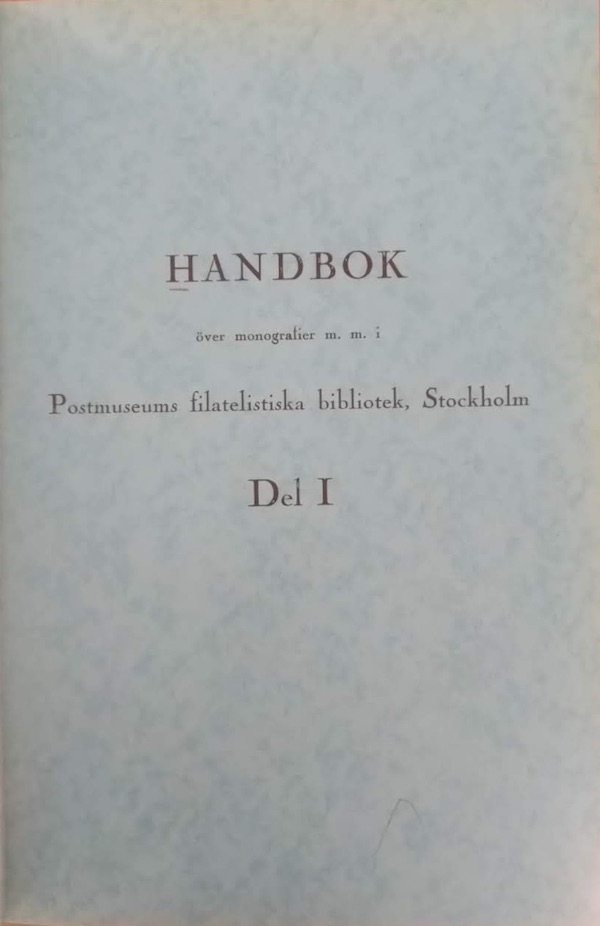 The catalogue was published in five paperbound volumes with grey covers (Figure 3). Each volume covers the following:
Del I, pp.i-ii + 1-323: Preface and Aalborg – Cyrenaika.
Del II, pp.324-631: Dahomey – Italienska Ostafrika.
Del III, pp.632-946: Jaipur – Oudeypoor Palumpoor.
Del IV, pp.947-1265: Pahang – Syrien.
Del V, pp.1266-1468: Tahiti – Övre Volta;
Register [Index], pp.1469-1506
The volumes, when published, were labelled with their volume number only on their spine.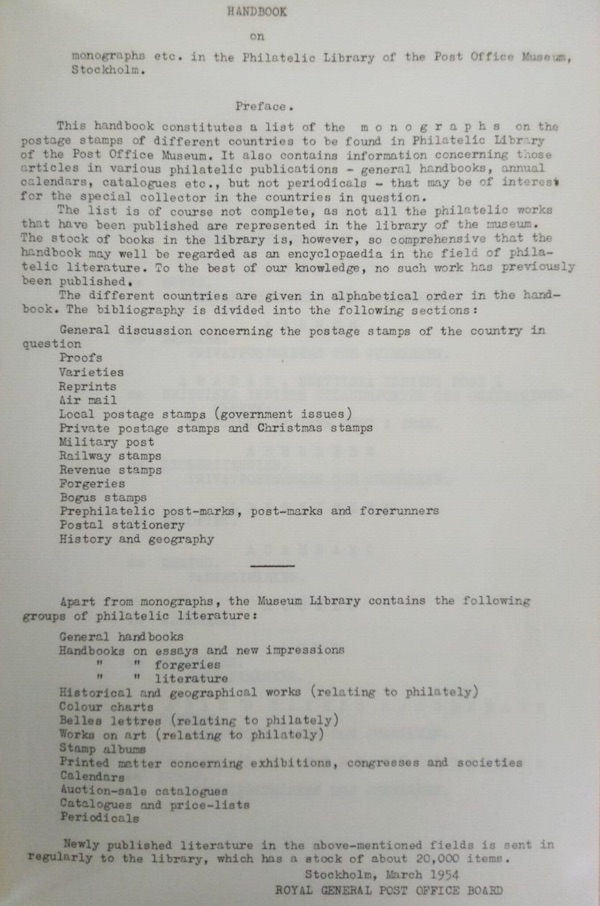 As can be seen from the preface (Figures 4 and 5), the catalogue is arranged country-wise in alphabetic order. Since the Swedish language has three letters at the end of the alphabet (å, ä, ö), the last volume ends with the letter Ö. While the language used in the book is Swedish, the names of books remain in their original language and are not translated. Within each country, general works are placed next and then come the various sub-divisions i.e.
Proofs
Varieties
Reprints
Air mail
Local postage stamps (government issues)
Private postage stamps and Christmas seals
Military post
Railway stamps
Revenue stamps
Forgeries
Bogus stamps
Pre-philatelic postmarks, postmarks and forerunners
Postal stationery
History and Geography
Books are listed alphabetically by author and the citations given are in full, including size and number of numbered and unnumbered pages.
One of the important aspects of this catalogue is that contents of encyclopaedic books such as the Kohl-Handbuch, Robson Lowe's Encyclopaedia, Lindquist's Stamp Specialist, the American Philatelic Congress Books, the Stamp Collector's Annuals, and Earée's Album Weeds are also included. So if someone goes to the Thailand section and searches for references on its airmails, the book will show the exact page location amongst these comprehensive works.
It was intended that periodicals would be covered at a later date, but as is common with such projects, that never happened. Further, regular supplements were also supposed to be released frequently; however, only one came out 15 years later.
The Supplement
Org, Votele. Bibliografi över Filatelistisk Litteratur: Supplement till Handbok över Monografier m.m. i Postmuseums Filatelistiska Bibliothek (=Philatelic Literature Bibliography: Supplement to the Handbook of Monographs, etc. in the Postmuseum Philatelic Library). Stockholm: Postmuseum, 1968. vii + 207pp.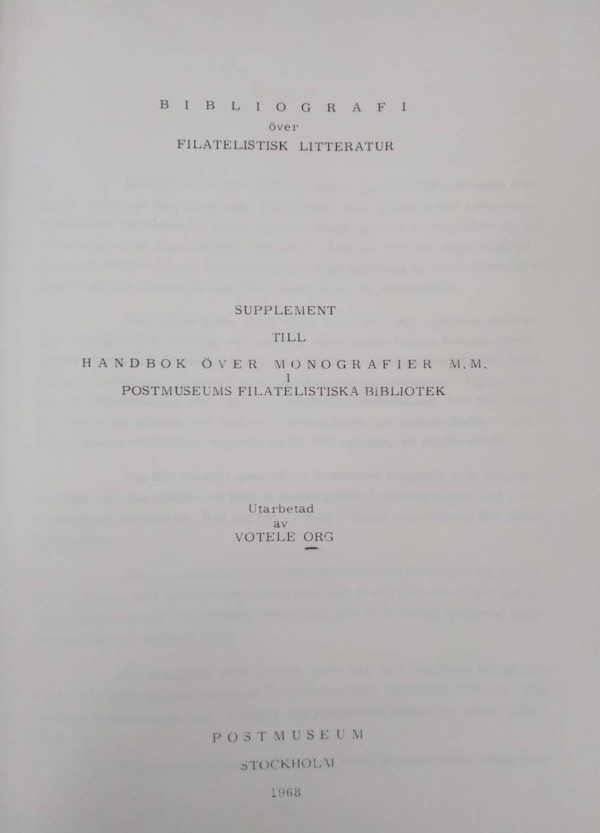 The contents of the supplement are listed below:
Contents
Foreword, pp.ii-iv
Adélieland – Östrumelien, pp.1-194
Register [Index], pp.195-207
The supplement is also paperbound in the same manner and style of the main work.
While Org was not credited as the complier in the five-volume main work, his name clearly appears as the author in the supplement's title page; in the preface to the supplement Org confirms that it was he who compiled the work over eight years (Figure 7).
While it was published in 1968, the supplement to the book covers the works received in the library between 1953 and 1957 only. The contents are laid out in the same format as the main catalogue.
The five-volume main catalogue is pretty scarce since it was published in a run of 100 copies only. Presumably 100 copies of the supplement were published as well.
Hunting for the Handbok
Having read Negus (1991) like my philatelic bible (or rather Bhagavad Gita, I have been trying to find a copy of this catalogue for long.
When I went to the Postmuseum, Stockholm in May 2019, I searched for and took some photographs of the work. However, despite advance inquiries with the library itself and with some dealers in the city, I was not able to find a copy.
Therefore, when I saw the catalogue up for sale in a Cavendish Philatelic Literature auction scheduled to be held on 30 July 2020 (Figure 7) I was excited at the prospect of buying it. Like most other items in this sale, the catalogue is ex-Junior Philatelic Society (later National Philatelic Society) and contains Junior PS (JPS) hand stamp inside front covers (as confirmed by Greg Springer of the auction company). Lotted at number 191 and estimated at a lowly £30, I was under the grand (and false) impression that I would be able to snare the work for £100-150, at most £200. Further, and curiously, the supplement was lurking in a box bearing lot number 184 with other literature titles and was also estimated at £30 (Figure 8).
During the live auction, when lot 184 went for £280, I was wondering if it was because of the supplement; the other more common titles put together surely could not have attracted this high a bid. And when lot 191 opened at £500, I looked on in horror as my worst fears came true; I alone was not looking out for a copy of this catalogue! As the bidding quickly went up and the catalogue sold for £700 (plus buyer's premium), I rationalised that I should live to fight another day! Perhaps someone else wants the volumes for his own library quite badly and this is pretty understandable for a quality and scarce work like this.
Now until the next opportunity comes my way, I will take James Negus' advice from his Bibliographical Notes no. 14 titled Guides to Sources of Philatelic Information dated 24 August 1958 and reproduced in Birch (2020):
A useful substitute for the large and expensive Stockholm Catalogue, suitable for the individual student, is the Catalogue of a private collection of books on philately and postal history, by Alb. A. Kronenberg
Off to pull out my copy of Kronenberg.
References
Birch, Brian J. The Philatelic Bibliophile's Companion. Montignac Toupinerie, France: The Author, 2020.
Negus, James. Philatelic Literature: Compilation Techniques and Reference Sources. Limassol, Cyprus: James Bendon, 1991.