After many suggestions and discussions (Figure 1), eight stalwarts (of the 49 invited) met exactly 150 years ago on 10 April 1869 (Figure 2) at 93, Great Russell Street and formed The Philatelic Society, London.​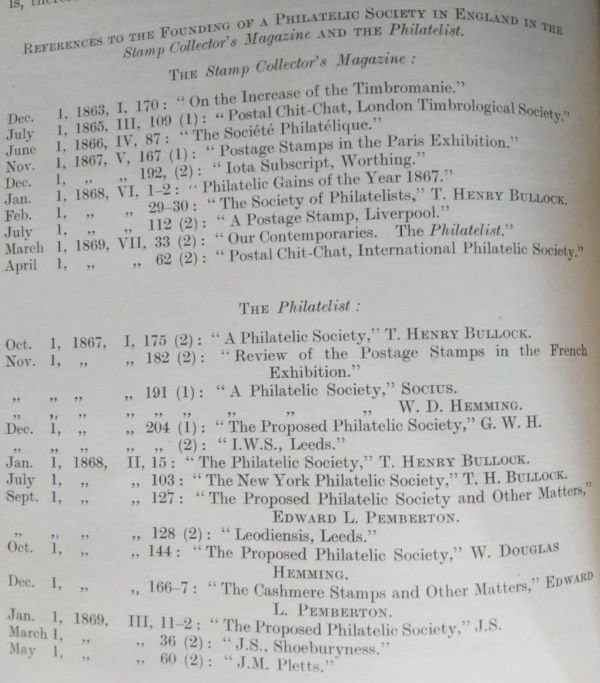 These fore-bearers included:
​Sir Daniel Cooper, who was elected the President
Frederick A. Philbrick, the Vice President
W. Dudley Atlee, Secretary
Edward Loines Pemberton, Charles W. Viner, Thomas F. Erskine, J. Speranza, and W. E. Haynes, who were members of the provisional committee.
As per rule no. 3,
…all amateurs be eligible for election as members of the Society.
Pemberton, Atlee, and Haynes were dealers and hence, strictly speaking, should not have been eligible for membership let alone office posts. But then how could anyone deny, especially Pemberton, membership to the Society dedicated to a hobby of which he was perhaps the then greatest living emissary?
​​The Society managed to tide over the difficult years of the early 1870s and is now the oldest surviving philatelic society in the world; some earlier societies such as the French and American ones having faltered. It received the prefix "Royal" on 28 Nov 1906 from King George V, an avid philatelist himself.
Apart from being the oldest, I would say it is the most vibrant and, very importantly, the most diverse philatelic society with approximately 2400 members from 80+ countries. With its move later this year to its new premises at Abchurch Lane, the future of the Society have never looked better!
P.S. Those interested in the history of the Royal may want to refer to the two books (Figure 3 and 4) brought out on 50 and 100 year anniversaries of the Society.
The Society is also publishing two catalogues on the occasion of the Sesquicentennial.
Volume 1: The Exhibition Catalogue
Volume 2: The Library Catalogue
More information including the table of contents of the two volumes is available on the exclusive website pertaining to the catalogues.