In 1996 was published The Royal Philatelic Society of Victoria Library: A History and Catalogue​ by Geoffrey Kellow (later an RDP, the highest award in philately) and Russell Turner. The library of the RPSV is perhaps the biggest in the Southern hemisphere. I have written an article on the library which can be found in the Articles section of this website and those interested may want to refer to that.
The Catalogue is perhaps one of the last, if not the last, of the big philatelic catalogues cum bibliographies to be published in printed form. While stamp collectors may be declining, the rate of philatelic output continues to be added at a prodigious rate and hence it is very difficult for printed works to be published and stay relevant for any length of time. The Global Philatelic Library on the internet is an initiative to provide a consolidated listing of philatelic publications, archives, museum items etc. held by libraries; so far 27 libraries have contributed their listings.
Now more on the Catalogue. It is a high quality work published in two editions:
A pre-publication Subscribers' limited, and numbered edition of 75 hard bound in maroon cloth with a matching slipcase (Figure 1 and 2).
A Standard, limited, but unnumbered, edition of 75 bound in blue cloth with a matching slipcase (Figure 2).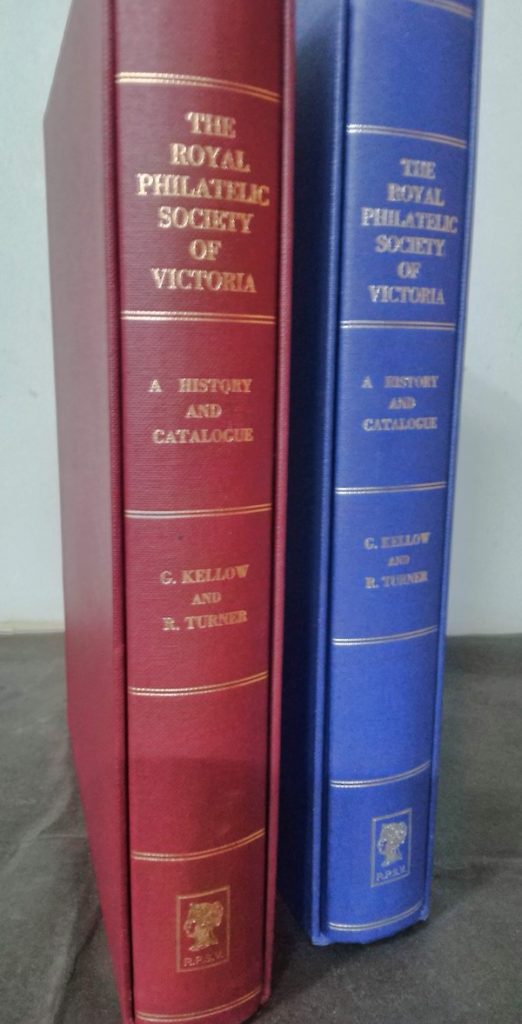 The information on (2) has been taken from the Auction Catalogue of The "Maharaja", Dromberg & Garratt-Adams (last part) Philatelic Libraries, Sale held 26-27 Apr 1997.
The subscriber's edition is signed by the authors as well as the President of the Society, John Trowbridge, on the Introduction page. It is also numbered (mine is no. 23). However, I am unable to find any other difference between the two.
Needless to say any hardcore bibliophile will do well to have a copy of this book in his library.