The 1948 issues of Mahatma Gandhi can be said to be the most popular and collectible stamps of modern India. Further, these stamps overprinted "Service" for exclusive use by the office of the then Governor General of India, C. Rajagopalachari, are known for their elusiveness being one of India's rarest stamps. Finally it is one of the most expensive post-World War II stamps in the world!
The definitive book on the subject is Mahatma Gandhi Memorial Issue of 1948 by Pradip Jain (Figure 1) Published in 2014 and authored by a well-known Gandhi collector, it is the last word on the subject. As per Jain, just 76 copies of the Rs 10 Service exist. Details are as follows:
A full sheet of 50 and a strip of five in the National Philatelic Museum, New Delhi = 55
A block of four in the Royal Collection = 4
13 singles and a horizontal strip of four in private hands (all certified) = 17
In Jain's book the strip of four is shown through the courtesy of Stanley Gibbons. In Apr 2017 it was widely reported in the philatelic and popular press that Stanley Gibbons had sold (the same) strip to an unnamed Australian collector-investor for £500,000. Earlier in Sep 2013, the auctioneer David Feldman had sold the finest known single copy for €168,000 (including buyer's premium) while in 2016 Gibbons had themselves sold another single to a collector in Uruguay (of all places!) for £160,000.
While attending Stockholmia 2019 in late May, I visited Spink's stand. Spink, founded in 1666 and headquartered in London, are one of the world's leading auctioneers of not only stamps, but also coins, banknotes, medals, wine & spirits, etc. At the stand, the same strip of four was on display (Figure 2) for sale for £550,000. A small booklet advertising this and a few other stamps available under Private Treaty was also kept on the counter for anyone interested to pick up (Figure 3).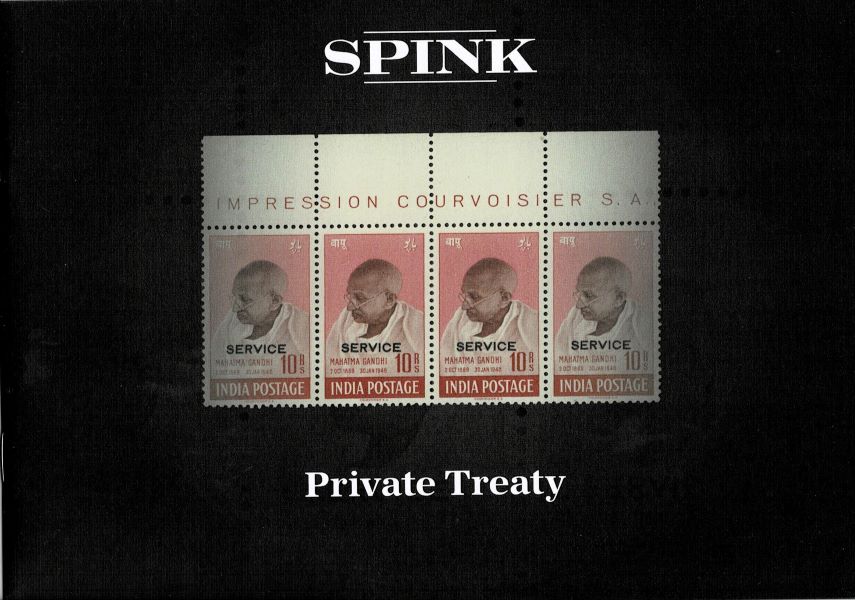 Pictured here is M. S. Ramu of Bangalore (right) with Geoff Anandappa, Director – Client Services, Spink at Stockholmia 2019. Ramu (not the new owner) is holding paper worth close to Rs. 5 crores or $700,000!
Acknowledgements: I am thankful to Ramu and Pragya Jain, two well-known Gandhi collectors and dealers, for going through this blog post and providing me their valuable inputs.