Some months back, when I was writing up some postal history covers, I came across the one pictured in Figures 1 and 2 from the Indian Mutiny period of 1857-58. It was sent by (later Sir General) Robert Cadell (more about him hopefully in a future post) to Cockenzie House in Prestonpans, nor far from Edinburgh. While there is no date of dispatch, it was written sometime in December 1857 in Delhi, shortly after its fall to British troops a couple of months earlier. This as can be deduced from the faint circular DELHI / PAID (Hammond Giles 11) on the rear and the stamps cancelled by an obliterator numbered 64 (the rare experimental Renouf Type 8e).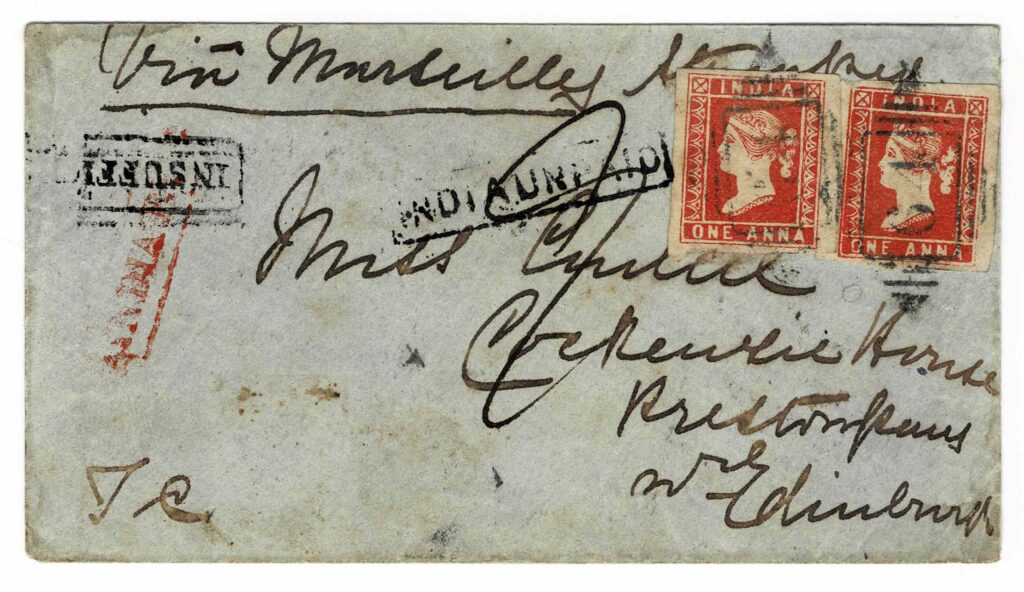 Two red one anna lithographed stamps paid the inland rate for letters weighing between ½ and 1 tola (1 tola approximates 4/10th oz). A uniform combined rate of postage from India to GB had Two red one anna lithographed stamps paid the inland rate for letters weighing between ½ and 1 tola (1 tola approximates 4/10th oz). Unnecessarily, since a uniform combined rate of postage from India to GB had been in force from 01.02.1856. Further, as the India-GB postage was not paid, the manuscript '9' was applied on arrival. This denotes a postage due of nine pence in GB for letters via Marseilles weighting up to ¼ oz i.e. six pence steam postage plus three pence French transit.
Sailing Dates
What puzzled me were the dates on the cover. The rear shows a Bombay datestamp of 28.12.1857 (will use the style of dd.mm) as well as London and Prestonpans datestamps of 28.01.1858. Perusing sailing records in the works of that preeminent researcher of the Peninsular & Oriental (P&O) – Reg Kirk – did not yield results. Kirk says that the P&O Madras, carrying mails left Bombay on 24.12. And the next, the P&O Bombay, did not leave Bombay until 09.01.1858 (P&O steamers of this period were quite often named after places; it can become confusing for the uninitiated like in this case). If this letter took the latter steamer, it could would not have reached London by 28.01; even whilst going through the faster Marseilles route.
So which ships did the cover travel on?
I found the answer when I was going through an unpublished work of Kirk. He mentions that 'extra mails' were sent from Bombay to Suez on the East India Company's (EIC or Company) Punjaub. I searched contemporary newspapers which confirm Kirk's assertion. Sample this:
The East India Company's steamer Punjaub also arrived at Suez on the 13th instant, with Bombay dates to 29th December.

Telegram from Alexandria dated 17 January 1858 received by the Foreign Office, through Corfu, on 22 January
The Punjaub also brought mail from Bombay, with intelligence to the 29th.

Telegram from Malta dated 21 January 1858
Now it becomes easy to figure out the sailing information for this cover. It is summarised below:
Bombay (30.12) to Suez (14.01) on EIC Punjaub (no stop at Aden)
Suez to Alexandria overland
Alexandria (18.01) to Marseilles (25.01) via Malta (22.01) on P&O Vectis
Marseilles to London (28.01) across France and the English Channel
EIC and P&O's Bombay-Suez service
The Company ran a steamer mail service from Bombay to Suez from 1830 to 1854, sporadically at first and regularly from 1838. However, its ships were notoriously inefficient and slow. The P&O was, under a contract with the British post office and using big steamers built from the latest available technology, successfully running a mail service on the Calcutta-Suez route (via Madras, Point de Galle in Ceylon, and Aden) since 1 January 1845. In 1854, it finally secured another contract to take over the Bombay-Suez mail route from the EIC. The P&O Erin, steaming out of Bombay on 15 December 1854 marked the maiden voyage of this service. After this date, EIC steamers did not carry Indian contract mails.
So, the question arises: why were 'extra mails' sent by the Company's steamer? For likely the only time after December 1854 since, in the aftermath of the mutiny, the Government of India Act 1858 called for the liquidation of the company and transference of its functions to the British Crown. My guess would be that, on this occasion, the Punjaub had space available and the authorities felt that some pending mails could be accommodated in the outgoing ship.
Another question could be – why were the Company's steamers not used more often for carrying mails? Was it that they were busier-than-usual ferrying soldiers and/or cargo due to the mutiny and could not spare room? Or perhaps, apart from this one occasion, there was no intention on part of the post office to violate their contract with the P&O.
Whatever may be the reason, from a postal history perspective this cover represents a very rare anomaly – a cover being carried by a non-contract steamer.
Horsing Horses!
Kirk does record the Punjaub being called for the mail duties once more later that year when it left Bombay on 12.04. However, I am unable to find any evidence of her having carried any mails this time around. Newspapers do report:
The East India Company's frigate Punjaub, with the Persia (transport) in two, arrived at Suez on the 4th inst., to convey cavalry horses purchased in Egypt.
The 4th would be 4 May 1858.
---
Punjaub / The Tweed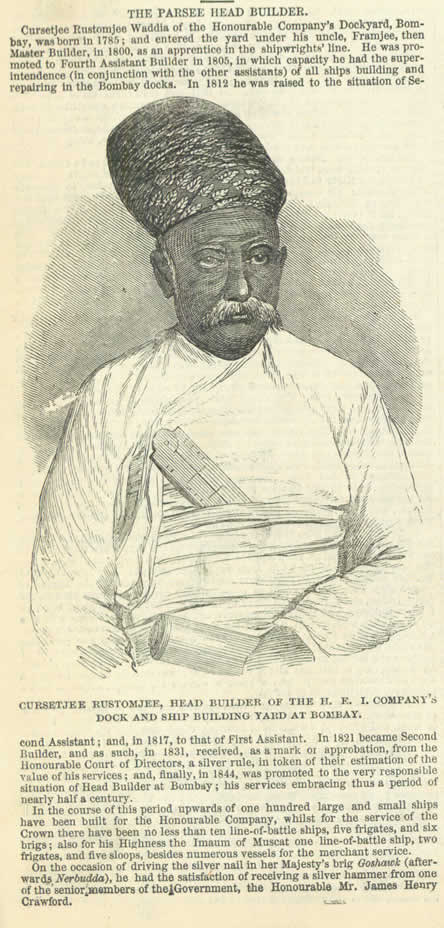 The Punjaub was, along with the Assaye, the last frigates to be built for the old Indian Navy of the EIC. They were laid down in 1852 in Bombay dockyard by Cursetjee Rustomjee Wadia (Figure 3), master builder and fifth of the famous Parsi family to hold that post. The Wadia family were known for their workmanship and their ships were celebrated for their strength and durability; the use of Malabar teak, which owing to its natural oils, contributed to this.
The Punjaub was initially to be called Plassy before her name was changed. Weighing 1745 tons net, she was a paddle steamer with engines of 700 hp and ten eight-inch 68-pound guns. She was launched 21 April 1854 (Figure 4). Her first fight was against the elements when she escaped damaged caused by a cyclone which devasted Bombay on 1 November 1854, "desolating the city and strewing the harbour with wrecks."
Being a frigate, she was always going to get into the thick of action. She took part in the Anglo-Persian war (Figure 5) as well as in the Indian Mutiny of 1857/58. In May 1857, she carried troops to Calcutta and her detachments distinguished itself when they saved Dacca from mutineers on 22 November 1857. She was back in Bombay on 21 September 1857 and kept busy moving troops. On 30 December, she sailed for Suez carrying mails as we discussed earlier.
On 8 February 1862, the Punjaub sailed for England as it was decided to convert her into a screw steamer. By this date the old Indian Navy had been merged into the Royal Navy. On arrival, she was put out of commission and sold to John 'White Hat' Willis (Figure 6) of John Willis and Sons, London. Willis lengthened her, removed her engines, and converted her into a sailing ship; her engines were sold for £12,000. Further, she was rechristened as The Tweed, in honour of the river in Willis' native county of Berwickshire (Figure 7).
The Tweed was a very fast ship; for example, in the mid 1860s, she had beaten by a day and a half the steam mail-boat from Hong Kong to Singapore. It is also thought that she was Willis' favourite vessel. One story goes that Willis, so confident in The Tweed's design, demanded that Hercules Linton, the designer of the soon-to-be-famous Cutty Sark, view the vessel, with the idea of using her as inspiration, if not fully embodying parts of her.
In 1864, The Tweed was involved in the expedition for laying the marine portion of the Indo-European telegraph between Bombay and Bushire (Figure 8). In the latter part of her life, she made a number of trips to the East, mainly Australia and New Zealand, carrying troops, cargo, and passengers. On 18 July 1888, she was on her way from China to New York via Colombo (Figure 9) and Cochin when, off Algoa Bay in Eastern Cape, she was dismasted and her injuries were considered serious enough that she was broken up. Her frames and timbers were used forming the roof of a church in Port Elizabeth, South Africa.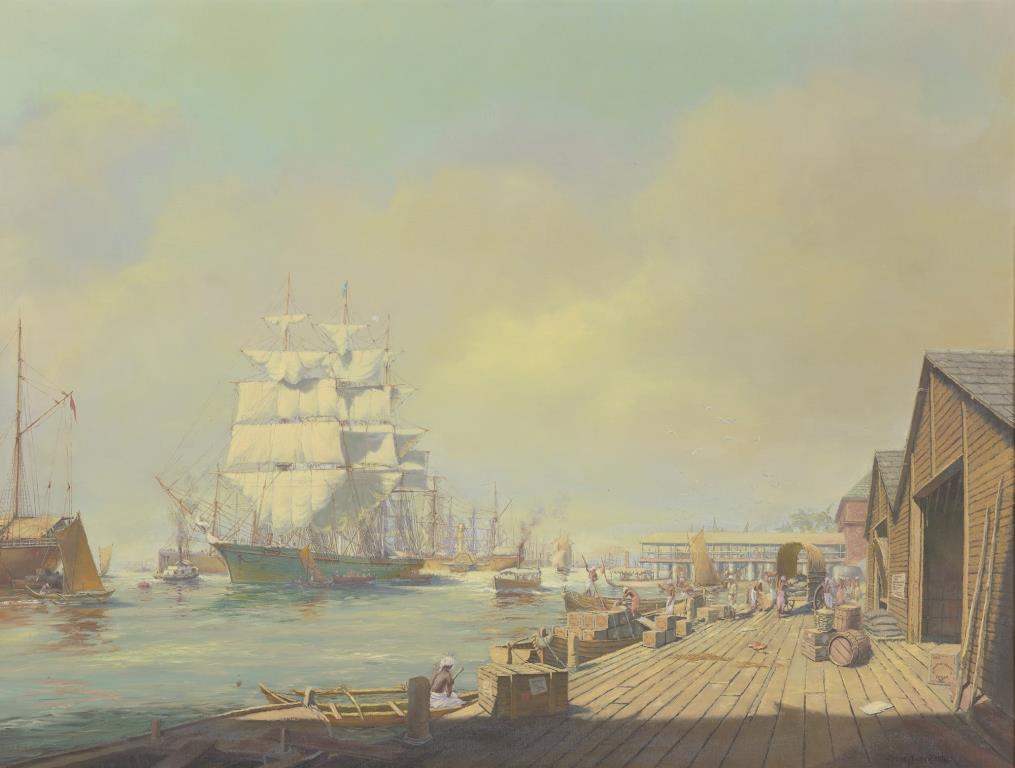 References
Lubbock, Basil. The Blackwall Frigates. Boston: Charles E. Lauriat Co., 1922 (via Internet Archive)
Kirk, R[eginald]. The P&O Bombay & Australian Lines 1852-1914. Vol. 1. 4 vols. British Maritime Postal History. Heathfield, East Sussex: Postal History International (A Proud Bailey Division), 1981
Low, Charles Rathbone. History of the Indian Navy (1613-1863). Vol 2. London: Richard Bentley and Son, 1877 (via Internet Archive)